Find all of Katie's books – from 'Dating Mr Darcy,' 'Marrying Mr Darcy,' the 'Jane Austen Factor,' and her latest, 'The Pemberley Collection' – right here.
The Pemberley Collection (UK Only)
Give in to your love of scandal, secrets and shopping with the sparkling Marrying Mr Darcy trilogy – the perfect Christmas treat for Jane Austen fans.

The Jane Austen Factor
What Would Lizzy Bennet Do?
First in the Jane Austen Factor series
When your name is Lizzy Bennet and Mr Darcy lives next door, romance is anything but simple…
Especially since a film crew has just arrived to shoot Pride and Prejudice at the Darcy estate. And when Hugh Darcy, the one who got away, arrives home after an eight-year absence, Lizzy can't help but think it's fate. Until, that is, he introduces her to Holly – his fiancée…
What can Lizzy do but try not to feel too prejudiced against Hugh's new woman – a city girl who knows nothing about country life, and seems more concerned with her film star ex than her current fiancé?
There's no denying that there's something suspicious about Holly's interest in Hugh…and when he begins to have his own doubts about his high-maintenance fiancée, it seems a break up is on the cards. But is it too late for Lizzy to swallow her pride and get her Austen ending after all?
The Trouble With Emma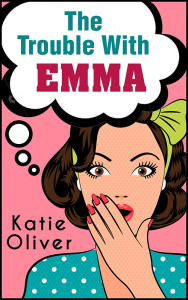 Second in the Jane Austen Factor series
There's a fine line between matchmaking and meddling…
Stuck in a boring job, living at home with her parents and without even a glimmer of romance on the horizon, Emma Bennet's life isn't turning out how she planned. And since hit reality show Mind Your Manors started filming at the Bennet household, she's felt more like a spare part than ever.
Finding a match for her assistant, Martine, is just the distraction Emma needs – and, whether Martine likes it or not, Emma is determined to see her coupled up with their wealthy (and handsome) new neighbor, Mr Churchill. But when she meets Mark Knightley, head writer for Mind Your Manors, Emma finds her own heart on the line…
Mark is everything Emma isn't: quiet, reserved…and prone to minding his own business. Now Emma is determined to prove to Mark that she's ready to stop thinking about other people's love lives – and focus on her own.
Who Needs Mr Willoughby?
Third in the Jane Austen Factor series
What should rule – your head, or your heart?
When sisters Marianne and Elinor Dashwood are forced to leave their family home to live in a rural Northumberland cottage, Marianne is convinced her social life is over. Somehow, she can't see kitten heels coping well in the countryside – and being stuck in the middle of nowhere, miles from London, sounds about as exciting as watching paint dry. Not to mention her arrogant new boss, Dr Brandon, who doesn't seem to think much of her city ways.
When she's rescued by the gallant, charming and handsome Mr Willoughby, Marianne begins to think that country life might not be so bad after all…especially when he hints that marriage might be on the cards. But the countryside still has a few tricks up its sleeve for Marianne…after all, love rarely blossoms in the most convenient places…
Marrying Mr Darcy
And the Bride Wore Prada
First in the Marrying Mr Darcy series
After being hounded by the paparazzi ever since news of their engagement got out, Gemma and Dominic are flying to Scotland for a much-needed romantic getaway. But they didn't expect to find Dominic's ex, Natalie, and her husband Rhys, on the very same flight! Landing in a torrential blizzard and with only one hire car (let alone a limo) between them, the four share a lift….but as the snowdrifts move in, stranding them in an isolated castle, it seems they'll be reunited for longer than planned…
Now it's time to say 'I do!'
In the face of adversity, Gemma does what any self-respecting celebrity fiancée would do: starts planning a last-minute wedding while she has Dominic to herself! After all, where better for a discreetly decadent wedding than in the middle of nowhere, miles from the nearest celebrity news desk? But marrying an A-lister away from prying eyes was never going to be easy. Will Gemma make it up the aisle? And, more importantly, now she's miles away from Vera Wang, what is this fashionista going to wear?!
And the Bride Wore Prada is the sensational first book in Katie Oliver's long-awaited 'Marrying Mr Darcy' series, the follow-up to her best-selling 'Dating Mr Darcy' trilogy.
Love, Lies & Louboutins
Second in the Marrying Mr Darcy series
The course of a celebrity marriage never did run smooth…
Gemma Heath has finally managed to get her rock star husband Dominic to settle down – and she has the ring to prove it. But when she sees photos of her brand-new husband escaping on his private jet with the latest pop sensation, Gemma can't help but assume the worst: once a cheater, always a cheater.
So when her old flame Jack Hawkins resurfaces, Gemma can't resist engaging in some extra-marital flirtation of her own – purely for revenge purposes, of course. But she isn't prepared for her one-time attraction for bad-boy Jack to resurface! Gemma has a serious decision to make – and running away from her problems has never been her style. Especially not when she's wearing sky-high stilettos…
Love, Lies and Louboutins is the second book in Katie Oliver's fabulous 'Marrying Mr Darcy' series, to be followed in March by Manolos in Manhattan.
Manolos in Manhattan
Third in the Marrying Mr Darcy series
She's a fiancée of good fortune…
Strutting down Park Avenue in her new Manolos, Holly James looks like a woman who has it all. But under her Prada sunglasses, Holly has a mounting list of decidedly unfabulous problems. Right at the top? The fact that since her fiancé Jamie started spending all his time at his new restaurant (with his impossibly gorgeous sous-chef), Holly has practically forgotten what he looks like…and started to feel a teensy bit paranoid.
…will Holly ever find her Mr Darcy?
Being kissed by film star Ciaran Duncan should provide a much-needed boost to Holly's ego. But losing herself in the moment is impossible, since she's still fuming after meeting British lawyer Hugh Darcy. He's easily the most arrogant man in Manhattan and she's engaged to be married…so why can't Holly stop imagining kissing him?
Suddenly, Holly finds herself torn between three eligible bachelors…and it's proving more difficult than choosing between a Manolo Blanik and a Jimmy Choo – especially since men are non-refundable! What's a New York fashionista to do?
Don't miss Manolos in Manhattan, book three in Katie Oliver's 'Marrying Mr Darcy' series.
Dating Mr Darcy
Prada & Prejudice
First in the Dating Mr Darcy series
He's a man in possession of a large fortune….but is he in want of a wife?
It is a truth universally acknowledged that Natalie Dashwood loves to shop. After all, as the heiress to the renowned London department store Dashwood & James she's been wearing designer shoes since she could walk! But a socialite's life isn't as perfect as you might imagine…
Natalie's spending is spiraling slightly out of control, her rock star boyfriend is engaged to someone else, and it seems the family business is in financial crisis. New high-flying business exec Rhys Gordon has been brought in to save the company from ruin, but what are his motives? And infuriatingly even a shoe-shopping spree can't take her mind off his distracting and oh-so-charming smile…
Couture and confetti mix with scandal and intrigue in this wonderful tale of retail, romance and redemption.
Love & Liability
Second in the Dating Mr Darcy series
Sometimes your sensibilities make absolutely no sense.
Holly James is looking for her big break. A young journalist for BritTEEN magazine, she's dying to write about something more meaningful than pop stars and nail varnish. So when she spots a homeless teenager outside the office, she feels compelled to tell her story. But her evil boss Sasha has other ideas…
Holly is sent to interview a city solicitor she's never heard of. But Alex Barrington turns out to be the very opposite of fusty and boring and Holly's interest struggles to stay strictly professional…
With Sasha sabotaging her every move, and her story about teens on the street leading her into London's dark underworld, Holly is chasing both love and success at the same time. But happy endings like that only happen in books, don't they…?
Mansfield Lark
Third in the Dating Mr Darcy series
Gemma Astley has succeeded where so many others have failed. She's managed to tame tearaway rock star Dominic Heath and stop his womanising ways for good. But just as they find happiness, Dominic's secret aristocratic past becomes public knowledge, and jeopardises everything.
Dominic is actually Rupert Locksley, heir to Mansfield Hall, a crumbling stately home that needs major financial investment to save it from ruin.
Dominic's mother pleads for his help, but his father, the Earl, is on the verge of disinheriting him. Meanwhile Dominic's new status as Mansfield's long-lost heir attracts the attention of cut-throat socialite Bibi Matchington-Alcester, who means to make him hers at any cost.
Will Gemma and Dominic – as well as Dominic's ancestral home, Mansfield Hall – come through unscathed?