Ha ha ha ha welcome, welcome everyone to Chatting With the Chicks of Chick Lit. I'm your host, Chuck Lottateeth, and I am so thrilled to be able to introduce you to some of the most fascinating characters in literature today.
I'm talking about the leading ladies of Chick Lit—those enchanting, romantic, darling, sexy, sweet, funny, headstrong—and, let's face it, sometimes downright frustrating—modern women who headline this fabulously fun genre. I'm sure you're going to love getting the skinny on these "novel" heroines, and who knows? You might just find your new BFF on the pages of one of these books!
Without further ado, please put your hands together and show some love for today's guest, Natalie Dashwood! *wild applause*
You all know Natalie as the wacky heiress from the bestselling novel, "Prada and Prejudice," who won us over with her kooky British charm-"
Natalie holds her hand up firmly but politely.
"Erm…excuse me, Mr Lottateeth, so sorry to interrupt, but it's Natalie Dashwood Gordon now, you know. And I'm hardly 'a wacky heiress' these days. Nor am I remotely 'kooky,' for that matter. I'm married – happily – to Rhys Gordon. And I'm mum to our little girl Edie."
Chuck grins. "Well, congratulations! My mistake! Sorry about that, Ms Dashwood-Gordon," he croons. "Now! Let's get on with the questions, shall we?"
"By all means."
"Question number one! If you were a shoe, what kind of shoe would you be?"
She ponders the question. "Hmm. That's hard, isn't it? I mean, what time of day are we talking about? Mornings? Mornings I do the school run, so I wear trainers or flats – comfortable, and absolutely necessary to chase after Edie."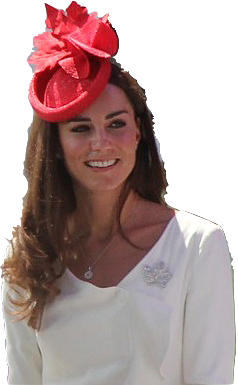 "So you'd be a pair of trainers? Or a pair of flats?" he prods.
"Oh, no. Neither." She makes a face. "They might be practical, but trainers and flats are dead boring, aren't they? No. If I were a shoe, I'd probably be a nice pair of nude LK Bennet heels, like the ones the Duchess of Cambridge wears. Classic, with just the right amount of sexiness."
Chuck nods. "Ok. Good choice. Next question-"
"No, wait!" Natalie exclaims. "This is so difficult! Can I change my answer?"
His smile tightens. "If you must."
"Right. Well, I'd much rather be a pair of Jimmy Choos. A really strappy pair. No, on second thought – wait." Indecision crosses her face. "I'd be a pair of black Louboutins. Yes, definitely Louboutins. I mean, they're so sexy, aren't they? But then…Manolos are, too." She sighs. "Crikey! Why must I choose only one type of shoe?"
"Next question," Chuck grits. "What are the three items you would absolutely need to have with you if you were shipwrecked on a desert island?"
Again, she ponders, and wrinkles her brow. "Crème de la Mer," she ticked off on her fingers, "and my daughter Edie, and – oh, and Rhys, of course."
"Of course."
"Can I re-order those? Obviously my husband and child are more important to me than a jar of face cream."
Chuck's smile is strained. "Obviously. Now, next question, please. If you had only $15 to spend, what would be the perfect date? $50? $5,000?
"Well." Natalie taps a reverse French manicured nail thoughtfully against her lower lip. "The amount of money doesn't matter, really. As long as I'm with Rhys, any date would be perfect."
"Good answer!" Chuck grins to the sound of warm applause.
"Thanks," she murmurs, and basks in the audience's approval.
"All right, another question, Natalie. Your best friend is asked to describe you in five words. What would they be?"
"Oh." She looks at him, frowns, and brightens. "My best friend Gemma would say I'm…loyal. Fun. A bit scatty. How many is that – three?"
He nods.
"Right. Okay, erm…Gemma would also say I spend too much money. And that I'm a good mum."
"So to put it into one word each, you're profligate. And maternal."
"Yes. Yes, I suppose so. Although I don't much fancy that word, 'profligate.' Makes me sound a bit like a-" she lowered her voice. "A prostitute. And I'm not!"
"What about your nemesis?"
"Well…she's not a prostitute either. At least, I don't think so."
"Ha ha! No, I meant – how would your nemesis describe you in five words?"
She looks at him blankly. "My…nemesis? You mean my enemy? But I don't have any enemies."
He laughs. "Everyone has enemies, Natalie!"
"No," she says earnestly, "I really don't." She frowns. "Unless you count Susie Ellerby-Dyson. She's one of the mums on the school run and she always tries to out-dress me. It's ridiculous. Everyone knows that crayons and couture don't mix. Everyone but Susie."
"Perhaps she's a working mother?"
"Oh, no. I mean – I could understand that. Everyone has to dress properly for work, after all. But Susie only ever plans charity balls over lunch, and shops, and drives around in that ginormous, petrol-guzzling SUV of hers all day-"
"What five words might Susie use to describe you?" Chuck interrupts. He glances at his wristwatch. "The clock's ticking, Natalie!"
"Oh. Well." She sniffs. "She'd say I'm drab, probably. Boring. And silly. She once said I'm jealous of her." Natalie lets out a snort of laughter. "Jealous! I ask you. As if I'd be jealous of a Botoxed cow like her-"
"I need one. More. Word," Chuck grits. "Please."
"Right. Sorry. I hope Susie would also say I'm…generous. Rhys and I often write checques to her charities, checques with lots of zeros in them, mind you – and last year we put up a Fortnum and Mason picnic hamper for the preschool raffle. But did she appreciate it? No, she did not-"
"Moving on! If you could be the heroine in any chick flick, who would it be and why?"
"Becky Bloomwood from that film Shopaholic," she says without hesitation. "She and I have lots in common – shopping being the main one – but also because she lands that gorgeous Brandon bloke in the end. I mean, who needs a green scarf or a Fendi handbag when you've got him? And Becky's fun. I'm fun, too." She glowers. "Despite what Susie Ellerby-Dyson says, the jealous cow-"
"And…we're out of time!" Chuck exclaims. "Darn! Well, you gave us some great answers, Natalie! Thank you for stopping by."
"But…I'm not finished-"
"Yes, you are," he grits out, grinning as he drags her offstage. "Bye, Natalie!"
She struggles to free her arm from his grip. "You're really very rude, Chuck, do you know that? Let go of me!" She bashes him over the head with her Birkin. "This is no way to treat a guest! I'll never set foot in this television studio again! I'll – I'll tell Susie Ellerby-Dyson and all the mums at the Weatherby Preschool not to watch your stupid chat programme, ever, ever again…"
***   ***   ***
Look for Katie Oliver's 'Dating Mr Darcy,' 'Marrying Mr Darcy,' and' Jane Austen Factor' series from Carina UK/Harper Collins
Dating Mr Darcy series
Marrying Mr Darcy series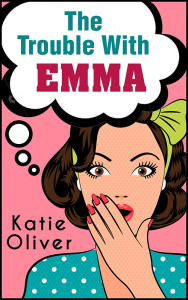 Jane Austen Factor series