Today I'm VERY excited to participate in the fabulous FAIRY TALE FUN BLOG HOP.
The blog hop runs 9 – 15 February and offers a gorgeous prize of Congratulations Magic Morsels gourmet brownies!  To enter the hop, just answer the question at the end of my post and reply with the answer (and your email address) in a comment.  Eighteen other blogs are participating and you may enter by answering a question at each blog – giving you eighteen chances to win!  Details below; open to US residents only.  ENTER TODAY!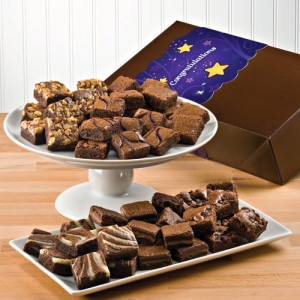 ♥ ♥ ♥
When I think of a princess, many images spring to mind – from the elegant (Princess Diana; Audrey Hepburn as Ana in Roman Holiday; Princess Grace of Monaco) to classic fairytale princesses (Cinderella; Sleeping Beauty; Frozen's Anna and Elsa), to the unconventional (Mia Thermopolis in The Princess Diaries; Phoebe Cates as Princess Caraboo).
So what is a princess, exactly? The online definition says:
Noun:  The daughter of a monarch.
a close female relative of monarch, especially a son's daughter.
the wife or widow of a prince.
And a posting from Urban Dictionary defines a princess this way:
The sort of girl who has never had to work for a single thing in her life. She is usually sheltered to the point where it's ridiculous, and spoiled beyond belief.
"What is wrong with her?" Alana demanded sharply, watching the girl's retreating back.
"Ignore her," her companion advised, "she's just another princess."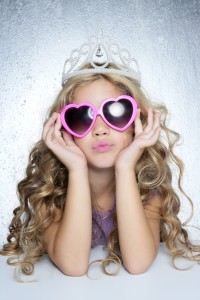 When I was asked to choose a princess to compare with my heroine, Natalie Dashwood (And the Bride Wore Prada), I considered all of the choices listed above. But none of them quite fit. It's true that Natalie's husband Rhys, like the prince in Sleeping Beauty, wakes her from her self-centered existence – not with a kiss, but a dose of reality.  However, since no kingdoms play a part in Prada and Prejudice, the fairy tale comparison didn't really work.
Cinderella? Again, no – because Natalie doesn't go from rags to riches, she goes from riches to rags (and she doesn't manage the transition very well). Nor does she have three evil stepsisters, just one sister, Caroline – who's mostly supportive (if a little exasperated with Natalie at times).
Then I thought of Sarah Crewe. Sarah who? you might well ask.
Sarah is the heroine of my favorite childhood book, A Little Princess, by Frances Hodgson Burnett. It's set in London in the late nineteenth century and tells the story of a girl who goes from riches to rags to riches again.
Sarah is English and is raised in Bombay, India. When her mother dies and her wealthy father returns to London, he leaves Sarah at Miss Minchin's Select Boarding School for young ladies. Although sad, she soon settles in to her new life, forming a few close friendships with her classmates and proving adept at her studies.
But when Sarah's father dies unexpectedly and leaves her penniless, Miss Minchin's first impulse is to kick the girl out onto the street.  She reluctantly allows Sarah to stay on – as a maid. The girl is exiled to a tiny, cold bedroom in the attic, and the headmistress begins to make Sarah's life a misery.  But with the help of her closest friends (and a mysterious benefactor), Sarah makes the best of her grim situation, until her benefactor's identity is revealed and she has her happy ending at last.
Like Sarah, Natalie is born to privilege. Her father is wealthy, and so she's never known real hardship…until the family's department store falters and begins to lose money at an alarming rate.
Like Sarah, Natalie's father dies unexpectedly when she's ten. It's a loss she never quite gets over. So she fills her days with dolls and horses and dressing up, and later, with shopping and shoes and designer handbags (and a disastrous relationship with a rock star).
And finally, like Sarah, Nat is a sweet, caring girl. She doesn't mean to spend money so thoughtlessly or so frivolously; it just sort of…happens. And while Sarah copes gracefully with the unhappy circumstances life hands her, Natalie most definitely does not. She isn't about to make lemonade out of lemons. She hates lemonade, at any rate. She much prefers champagne.
Natalie's life might have continued on in this hedonistic manner if not for Rhys Gordon, the no-nonsense business consultant hired to save Dashwood and James department stores from bankruptcy.  He puts the brakes on Natalie's spending. And she doesn't like it. Or him…
But then, that's a princess for you, isn't it?
♥  ♥  ♥
My question for the Fairy Tale Fun Blog Hop contest is:  Who do you think is the most swoon-worthy hero in all of romantic fiction, and why? Heathcliff? Mr Darcy? Luke Brandon?
The Grand Prize for this hop is the Congratulations Magic Morsels 48 Gift Box from Fairytale Brownies , which includes a bite-size assortment (Caramel, Chocolate Chip, Original, Raspberry Swirl, Walnut, Cream Cheese) of 48 delicious gourmet brownies.
– This giveaway is open to US residents ONLY.
– A winner will be selected at random and announced on Monday, February 16th.**
– Everyone may enter at each stop on the hop, which means up to 18 CHANCES TO WIN!
***EXTREMELY IMPORTANT*** In order to enter at each blog on the hop, you must leave a comment, answering the question asked by the author at that stop.
***ALSO IMPORTANT*** Please LEAVE YOUR E-MAIL ADDRESS along with your comment. You MUST do this so that we have a way to contact you if you win. Entries without an e-mail address will be disqualified.
Have fun and good luck!!
CLICK TO ENTER AT EACH PARTICIPATING BLOG:
Christine Ardigo
Glynis Astie
Heather Balog
Tracie Banister
Laura Chapman
Jayne Denker
Whitney Dineen
DelSheree Gladden
Kat Halstead
Cindi Madsen
Jennie Marts
Robyn Neeley
Engy Neville
Colleen Oakes
Katie Oliver
Fern Ronay
Meredith Schorr

♥ ♥ ♥
And the Bride Wore Prada, first in the new 'Marrying Mr Darcy' series, available now!
Follow me on Bookbub!